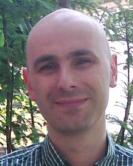 Home page of Enea Zaffanella
[Page last updated on "January 21, 2013, 11:57:18".]

Associate Professor
Computer Science Group
Department of Mathematics and Computer Science
University of Parma
Italy

---
Welcome to my home page.
From here you can access some information about how to get in touch with me, the research projects I am participating and the list of my research publications.
I am a member of the Computer Science Group at the University of Parma, as well as of the China, PPL and PURRS development teams, as well as a member of the Italian Association for Logic Programming (GULP).
I am also the maintainer of the web pages for the Corsi di Laurea in Informatica (i.e., First and Second Level Degree in Computer Science; in Italian only), as well as the (old) web site Corso di Laurea in Informatica (again, in Italian only).